You must allow cookies and JavaScript for a proper shopping experience.
Price: $14.00
Publisher: New York, Grosset & Dunlap : 1911
Edition: Reprint Edition
Seller ID: 005839
Binding: Hardcover
Condition: Good with no dust jacket
---
Spine slightly slanted, some edgewear & bumping, boards spotted near spine. Text yellowed, but clean and unmarked. From the author's Preface: "As the first part of An Old-Fashioned Girl was written in 1869, the demand for a sequel, in beseeching little letters that made refusal impossible, rendered it necessary to carry my heroine boldly forward some six or seven years into the future. The domestic nature of the story makes this audacious proceeding possible; while the lively fancies of my young readers will supply all deficiencies and overlook all discrepancies. The 'Old-Fashioned Gir...
View More...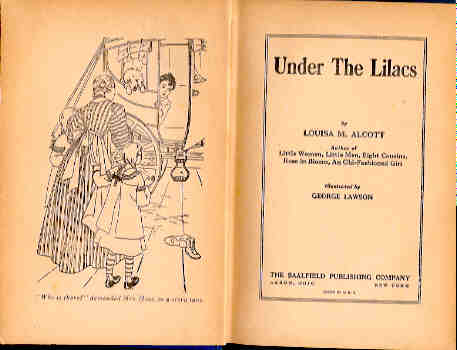 Price: $6.95
Publisher: Akron, Ohio, Saalfield Publishing Company : 1935
Seller ID: 001097
Binding: Hardcover
Condition: Fair with no dust jacket
---
Boards somewhat scuffed and stained. Shelf-cocked, corners bumped. Some chipping along spine.. Lightening along spine, darkeninginside covers. Pages in good shape with foxing.
Lovers of 'Little Women' and 'Little Men' will enjoy this Louisa May Alcott story.
Pen & ink illustrations.
Est Level: 3rd grade and above; 7" - 9" Tall
View More...