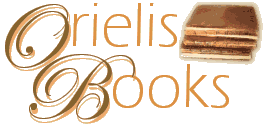 ---
Welcome to Orielis' Books!
Please take the time to browse through our catalog. We specialize in Science Fiction, Fantasy, Mystery, Romance, and Children's books (both recent and vintage). 

We also carry an extensive collection of Rex Stout books, featuring the world's largest private detective Nero Wolfe.
Each week sees us adding more titles to our on-line catalog. Check back from time to time to see what is new.
In addition to our on-line offerings, throughout the year we go to various Science Fiction conventions within a four state area.  For more information concerning where we will be vending this year, please see Events.
One area we have been expanding is our children's series books, featuring classics like Tom Swift, The Hardy Boys, and Nancy Drew, to other entertaining series like The Three Investigators, X Bar X Boys, The Black Stallion and many more. Look for these in our Children's Series category. We plan to add sub-categories here as well, to highlight some of the individual series.
---
Featured Author
One of the great things about Jane Lindskold's stories is that no matter what type of Science Fiction and Fantasy you're in the mood to read, she's probably written it.
Interested in Epic Fantasy?  Try her six volume "Firekeeper Saga," which begins with Through Wolf's Eyes.   Mythic urban fantasy can be found in Changer and Legends Walking, as well as in her three volume "Breaking the Wall" novels.  (The first one is Thirteen Orphans.)
Lindskold has written sword and sorcery (When the Gods Are Silent) and magical realism (Child of a Rainless Year).  She delves into historical fantasy in The Buried Pyramid and into fairy tales with The Pipes of Orpheus.
Prefer Science Fiction?  Lindskold has written that, too.  Her first published novel is the cyberpunk cult favorite Brother to Dragons, Companion to Owls.  Her second novel, Marks of Our Brothers, is an alien first encounter novel.  Smoke and Mirrors is a spy thriller featuring a very unlikely telepath.
Lindskold has written space opera, both solo (Artemis Awakening and Artemis Invaded), and in collaboration with David Weber (Fire Season and Treecat Wars).  Other collaborations include Donnerjack and Lord Demon, both completed by her at the request of the late Roger Zelazny.
If your busy schedule doesn't give you time to delve into a novel, a sampler of Lindskold's short fiction is gathered in Curiosities.
Although Lindskold's work doesn't fall into any one category, that doesn't mean it lacks unifying elements.  She's been frequently praised for her strong female characters, although she's the first to stress that her interest is in strong, decisive characters of all types.  Non-humans – animals, aliens, and figures from myth and legend often appear in her work.  Exploration and the need to press boundaries is a frequent motif.
Basically, the question isn't "What does Jane Lindskold write?"  It's "What doesn't she write?" 
Note: To see previous months featured authors, click here.
                                           _________________________________________________________________________________________________________________________________ 
Large Print Books 

We continue to add to our inventory of Large Print books and currently offer about 130 titles. We are always looking for more large print books of all kinds -- mystery, romance, thrillers, history, and more. We tend to pick up any large print books in decent condition that we find, as we know these books can be difficult to locate.

If you read large print books and are interested in a particular author or series, feel free to drop us a note and we can let you know when we get some in.

Note on Easy Eye books: In the mid to late 70s (mostly), there was a special type used by some paperback publishers called Easy Eye Larger Type. These books were pocket paperbacks and the type, while not as big as today's large print books, is definitely larger than the standard type used in a typical pocket paperback. We have included these in our Large Print catalog and identify them as Easy Eye or Larger Type in the book descriptions.
Finding Books Online
Looking for a particular book? You can use our Quick Search to search our inventory by author, title, or by using specific keywords.
Just wanting to Browse through the shelves, or perhaps look at one or more of the different categories? You can do that here as well.
Want List
 Looking for a particular book but can't find it anywhere? Interested in anything by a favorite author? Use our Off-line Search Service to tell us what you're trying to find. We'll search for it and report back to you what we find.

Note: By entering a want you are NOT committed to buy anything. We'll e-mail you with our findings and then let you decide if that's the right choice for you.
Shipping Specials
U.S. customers: Order $35 or more, and get free media mail shipping.
Browse our inventory now to take advantage of this special.
---